Your front door is all about the first impression. A beautiful new front entry door can enhance the curb appeal of any home, new or old.
Wood doors are typically higher in price, but the quality and an authentic look is worth it: there's nothing like feeling the true weight of a wood door. Wood doors can compliment both modern to traditional styles.
We get these products from BC Door, a company known for building higher-end wood doors since 1934. BC Door's products are all custom made at their shop in Vancouver, B.C. They supply their customers with an exceptionally high-quality product that we believe in. There is a noticeable difference in craftsmanship between BC Door and other manufacturers; BC Door maintains superior quality. BC Door offers many species of wood, and they also feature a wide variety of decorative and bevelled glass inserts.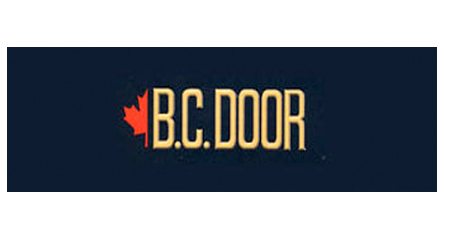 Much of the new construction today is uses fiberglass, because of its functionality and hardiness. Fiberglass doors resist warping and denting, and most importantly, they have a better insulation value (R value) than their counterparts. Fiberglass doors are available in wood grain texture for staining, and smooth for painting. Because of their popularity, there is a wide variety of styles available.


Steel Doors are the most cost-effective choice. If maintaining a lower budget for your project in an important factor, then a steel door may be optimal solution for you. They provide durability, longevity and still have style.
Both Masonite and Jeldwen are our suppliers of choice for steel and fiberglass. Combined they have over 100 years of experience in the door business.


Interior doors provide function, but are also a significant addition to your home's unique style. There are a variety of modern and classic designs available to suit your needs.
Most interior doors are hollow core, however, there is the option to go with solid core doors. This simply means reduced sound transmission between rooms, which is especially useful in bedrooms or bathrooms. Having solid core doors will also add more value to your home, while giving you the quality, heavy feel and durability of real wood.
Metrie supplies us with all of our interior doors. They also offer a wide range of French and designer wood doors.

Windows play a significant role in your home's architectural style. Besides allowing light, fresh air, and warming rays of sun into your home, they also provide protection and comfort from the elements on those stormy days.
At Pioneer, we choose to deal with Jeld-Wen when it comes to supplying our windows. Jeld-Wen offers quality products at a competitive prices. We have a longstanding relationship with Jeld-Wen, which means and if there are any issues, we know we'll get looked after. Jeld-wen also features a limited lifetime warranty — one of the best in the window business.
Purchasing windows can be a daunting task, whether it is for your new dream home, or a renovation that you've been saving up for. Our expert staff at Pioneer can help with the design, giving tips to make your package more affordable.
Along with the many styles available, Jeld-wen offers painted windows, grids and SDL's to make your windows reflect the particular style of your home. All of our windows also meet NAFS specifications, which means passing B.C. building codes and greater energy efficiency.

Door Problems
Doors seem fairly simple, but once you delve deeper into it you realize things can go wrong very quickly — especially if you are new to ordering doors. Often sizes and swings can get mixed up. This lead to unusable doors, or awkward swing arrangements.
Our knowledgeable staff will help you better understand exactly what you need so this doesn't happen. We can walk you through step by step to make sure you get the door you want. We are also up to date on building codes so when it calls for it, your door will pass inspection.